In the morning, I did a little birding around the State Park Area and then visited Carson Lake Reserve.  It was hot, but the birding was good.  There were breeding Long-billed Curlews.  My photos of these did not turn out.  And there were breeding Redheads.  The most abundant bird of the area was White-faced Ibis.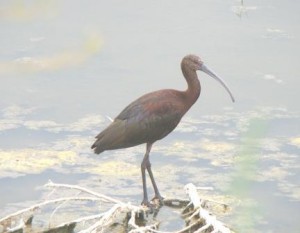 I then traveled to Stillwater Wildlife Refuge northeast of Fallon.  Here, there were breeding Redheads:

and breeding Clark's Grebes.
I also enjoyed seeing the thousands of swallows feeding over the marshes and staging in the tules.  There were hundreds of Bank Swallows in amongst Tree, Cliff and Barn Swallows.  Below is a photo of a Bank Swallow next to a juvenile Tree Swallow.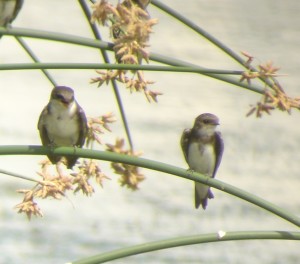 Another wind and dust storm came up in the afternoon.  There was rain and lightning visible in the distance both evenings, but I only experienced the wind and dust.