This was my last day. 
I lingered on Highway 89 just south of Lassen for a little while.  I photographed this butterfly which I used to know as Meadow Fritillary.  But now, due to taxonomic changes, it is the Pacific Fritillary.  Sometimes you have to travel all the way to Lassen to learn these things.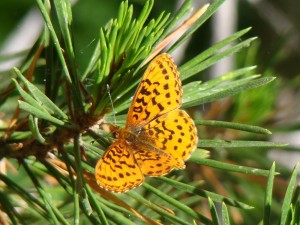 I decided to take Road 32 down throuh Tehama County because I had absolutely no birds recorded in that county in my very old-fashioned county-bird coloring book from Golden Gate Audubon Society put out in the 70s or 80s.  That was fun.  I added White-headed Woodpeckers and Cedar Waxwings to the trip list on that road.
It was a dramatic drive down the mountains into Chico.  The last part of the road was through dry Gray Pine Forest.  The views of the large valleys and tall cliffs were stunning and a fitting end to the trip.  Once I arrived in Chico, I called it an end to a great trip.  I ate a burrito, bought some fresh fruit, filled the car with gas, changed in to shorts, and buzzed on home on the freeway.