Day 4 was a montane exploration day.  I watched some Western Grebes display to each other on the lake while driniking my morning coffee.  I looked at some Mountain Chickadees. and then found some high-country chapparel with some  Green-tailed Towhees and a Rock Wren feeding a young fledgeling.
I then ditched the pavement for the more solitary dirt roads and traveled forestry road 21 and drove up to Antelope Valley Lookout.  I had nice views of a Williamson's Sapsucker  and a lovely juvenile Townsend's Solitaire.
I drove through a huge Alpine meadow called Pine Creek Valley.  There were Sandhill Cranes.
I stopped to photograph these Emerald Spreadwings -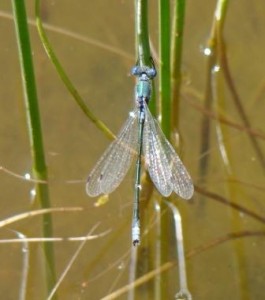 While I was trying to get better photos, a very quiet Short-tailed Weasel peaked out of the grasses at me. It was a magic moment.
I then drove on to Burney Falls, hoping that the Black Swifts would still be using the falls to nest in.  That evening, I was surprised to see Vaux's Swifts flying around the Falls Area.  This mystified me, so I camped hearby to watch for them again in the morning.
The birding near my campsite was fantastic.  It was Gray Pine/Black Oak habitat and I found a migratory warbler flock of 4 species, breeding Purple Martins, lots and lots of Chipping Sparrows and the place was alive with activity.  Just before sunset, I came across the Western Rattlesnake in the road.