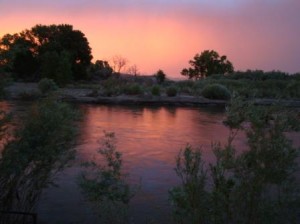 On Friday, July 29, I loaded up the car and decided to go to Lahontan Valley Nevada,  just to see a new place and do some birding.  I needed an adventure.  I had 6 days and I was going to use them.
I traveld over I-80 past Reno and Sparks and camped in Fort Churchill State Park along the Carson River.  It was an amazing riparian corridor with some of the largest Cottonwood Trees I have ever seen. 
It was late afternoon when I arrived, and a huge wind and dust storm had brewed, so I did not see many birds.  But the sunset was spectacular.